When:
December 15, 2023 @ 6:00 pm – 7:30 pm
2023-12-15T18:00:00-06:00
2023-12-15T19:30:00-06:00
Where:
Oxbow Park
5731 County Rd 105 NW
Byron, MN 55920
USA

Radio astronomy
Presentation by Rob Reid
Radio astronomy is a subfield of astronomy that studies celestial objects at radio frequencies. The first detection of radio waves from an astronomical object was in 1933, when Karl Jansky at Bell Telephone Laboratories reported radiation coming from the Milky Way.
Rob Reid is TBD2.. and he is an active member of the Rochester Astronomy Club.
Observing
Public Sky Observing of the young Moon – 3.5 days after New Moon, planets Saturn,Neptune,Jupiter&Uranus bright stars, double stars, and more by telescope with guidance members of the Rochester Astronomy Club.
What to expect at Public Sky Observing – click here.
Reload this page before you leave for the event. Event can be cancelled in case of cloudy weather or another reason.
Moon on Friday December 15 evening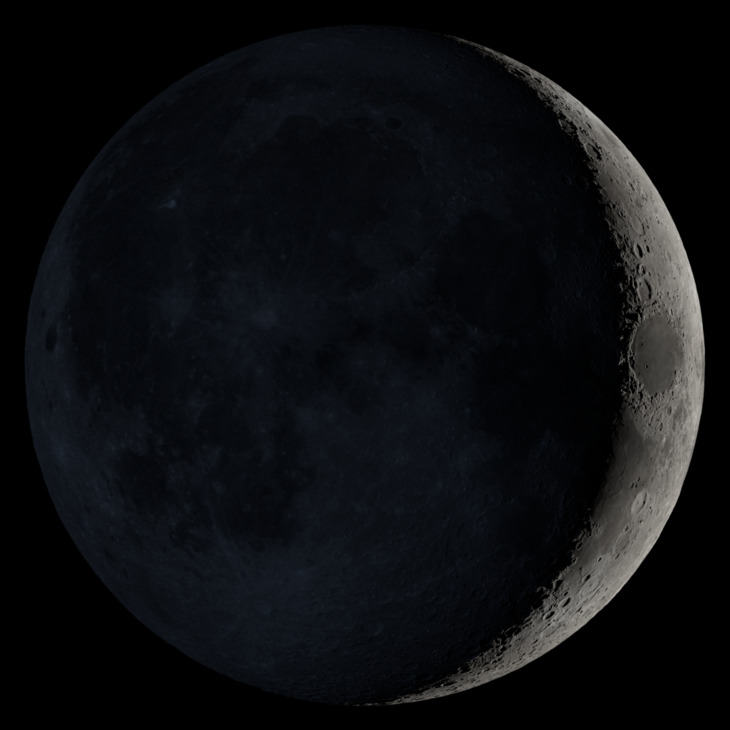 Credit: NASA Scientific Visualization Studio
Resources:
In the Sky December/2023, Moon Features You Can See From Earth, Phases of the Moon 2023, Sun and Moon data, Sun today, Holidays 2023
Messier list, Caldwell list, Double stars list, Carbon stars list
NASA: All Eyes on the Ice Giants
2023 Public Sky Observing Plan
Month
Day
DoW
Location
Sunset
Start
End
☽ age
Planets
Jan
27
Fri
Oxbow Park
17:13
6:00 PM
7:30 PM
6.0
♀,♄,♃,⛢&♂
Feb
24
Fri
Oxbow Park
17:52
7:00 PM
8:30 PM
5.2
♀,♃,⛢&♂
Mar
31
Fri
Oxbow Park
19:35
8:00 PM
9:30 PM
10.0
☿,♀,⛢&♂
Apr
15
Sat
Root River Park
19:53
9:00 PM
11:00 PM
25.1
☿,⛢,♀&♂
Apr
28
Fri
Watson
20:09
9:00 PM
11:00 PM
8.5
♀&♂
Apr
29
Sat
Austin Sola Fide
20:11
8:00 PM
11:00 PM
9.5
♀&♂
May
13
Sat
Root River Park
20:27
9:30 PM
11:30 PM
23.8
♀&♂
May
19
Fri
Elgin
20:38
9:30 PM
11:30 PM
4.2
♀&♂
May
26
Fri
Watson
20:41
9:30 PM
11:30 PM
6.0
♀&♂
Jun
10
Sat
Root River Park
20:53
9:45 PM
11:45 PM
22.5
♀&♂
Jun
23
Fri
Watson
20:57
9:45 PM
11:45 PM
5.4
♀&♂
Jul
15
Sat
Root River Park
20:52
9:30 PM
11:30 PM
28.0
☿,♀&♂
Jul
28
Fri
Watson
20:40
9:30 PM
11:30 PM
10.6
♄
Jul
29
Sat
Frontenac
20:39
9:30 PM
11:30 PM
11.7
♄
Aug
12
Sat
Forestville
20:21
9:00 PM
11:00 PM
26.6
♄&♆ State wide party
Aug
19
Sat
Root River Park
20:11
8:30 PM
10:30 PM
2.9
♄&♆
Aug
25
Fri
Watson
20:01
8:00 PM
10:00 PM
9.1
♄&♆
Sep
09
Sat
Root River Park
19:34
8:30 PM
10:30 PM
25.1
♄,♆&♃
Sep
19
Tue
Elgin
19:15
8:00 PM
10:00 PM
4.7
♄,♆,♃&⛢
Sep
22
Fri
Watson
19:22
8:00 PM
10:00 PM
7.7
♄,♆,♃&⛢
Sep
23
Sat
Frontenac
19:23
8:00 PM
10:00 PM
8.7
♄,♆,♃&⛢
Oct
07
Sat
Root River Park
18:37
7:30 PM
9:30 PM
23.6
♄,♆,♃&⛢
Oct
20
Fri
Watson
18:20
7:00 PM
9:00 PM
6.3
♄,♆,♃&⛢
Nov
17
Fri
Oxbow Park
16:43
6:00 PM
7:30 PM
4.9
♄,♆,♃&⛢
Dec
15
Fri
Oxbow Park
16:33
6:00 PM
7:30 PM
3.5
♄,♆,♃&⛢
event
November 17 previous
next January 19
☿ – Mercury, ♀ – Venus, ♂ – Mars, ♃ – Jupiter, ♄ – Saturn, ⛢ – Uranus, ♆ – Neptune
Color code

| | | | | | |
| --- | --- | --- | --- | --- | --- |
| Oxbow Park | Root River Park | Soccer Fields | Out of Rochester | lunation | lunation |